Send to Kindle
Guest post by Shelley Hitz
Getting a Kindle for Christmas?  Maybe you already have one or choose to read Kindle books via their free apps.  Whatever the case, it is now time to load up your Kindle with free Christian books online!
Here are my top 3 ways to load your Kindle with free Christian books online after Christmas….
#1:  Check the Kindle bestseller list each day for FREE Christian books
As you are probably aware, Amazon Kindle has a KDP select program for authors.  This allows authors to offer their books for free, 5 days every 3 months.  This benefits you as a reader because there are literally new free books to download every day.
The best place to look for free Kindle books is the best seller list.  The top paid books will be on the left and the top free books will be on the right.  You can see an example from the Christianity category in the screenshot below: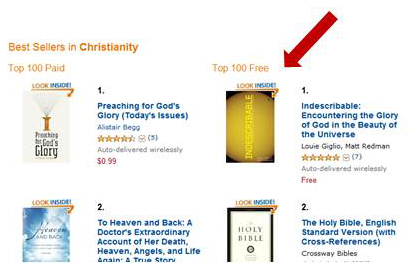 Here are the links to check on Kindle to find free books:
#2:  Check our blog daily (or subscribe) to get notified of free Christian books
We post free Christian books and giveaways daily on our blog.  Make sure to check back often to keep filling up your Kindle!
#3:  Finally, make sure you don't miss the "Shop 'Til You Drop" free Christian book promotion 12/26, 12/27 and 12/28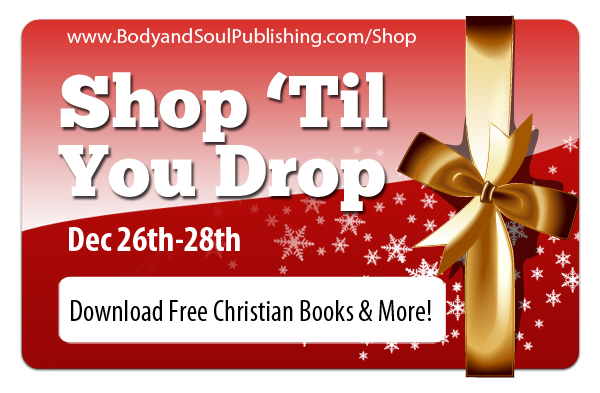 This is a time-limited offer; therefore, make sure to mark your calendar so you don't miss out!  You'll be able to download over 30 Christian books, both fiction and nonfiction worth over $110.   You will also be able to enter to win a $25 Amazon gift certificate to get even more books!  3 days only…
On December 26, 27 and 28th go here:  
www.bodyandsoulpublishing.com/shoptilyoudrop
There you go!  3 ways to load up your Kindle with free Christian books after Christmas.
Enjoy and happy reading!
Shelley Hitz is an award-winning and international best-selling author.  Her openness and vulnerability as she shares her own story of hope and healing through her books will inspire and encourage you.
Shelley has been ministering to teens since 1998 alongside her husband, CJ. They currently travel and speak to teens and adults around the country. Shelley's main passion is to share God's truth and the freedom in Christ she has found with others. She does this through her books, websites and speaking engagements.
You can find more about Shelley at www.ShelleyHitz.com or invite her to speak at your event here: www.ChristianSpeakers.tv