Send to Kindle
By Naty Matos
As the Grace & Faith 4U blog has been in hiatus since June, I felt the best way to re-launch it would be talking about new beginnings. In life we have those all the time. New chapters that open at certain places of our life journey that provides us with a whole new experience to grow through.
Life is filled with new beginnings and the way we look at them will determine the outcome. One of the great beginnings is the gift of salvation. It gives us the opportunity of a new spiritual life and to have eternal life. Like it says in 2 Corinthians 5:17 "Therefore, if anyone is in Christ, he is a new creation. The old has passed away; behold, the new has come"
Every morning is a new beginning as well and regardless of the issues we faced the day before, God gives us a new opportunity to make our wrong right and to have hope in a better life experience. Keep in mind what it says in Lamentations 3:22-24 "The steadfast love of the Lord never ceases; his mercies never come to an end; they are new every morning; great is your faithfulness. "The Lord is my portion," says my soul, "therefore I will hope in him."
So just like God and life gives us new beginnings let's enjoy this new beginning for Grace and Faith. Enjoy what our awesome authors have to share with us every Monday, Wednesday and Friday.
Many blessings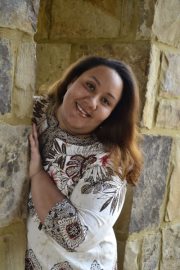 Naty Matos was born in the city of New York. She grew up in the beautiful Island of Puerto Rico and now lives in the city of Atlanta.
She holds a Bachelor's Degree in Clinical Psychology with a Minor in Mass Media Communications and a Master's Degree in Mental Health Counseling.
Naty writes Christian fiction and non-fiction. She maintains a blog on Christian Living Topics at www.therisingmuse.com
Her new novel The Road Home is available in Kindle and Nook