Send to Kindle
Welcome all you lovely readers!  Have we got a treat for you today.
If NASCAR and thrills are your thing, then you're going to love G&F author, Suzanne Hartmann, author of PERIL, a new Fast Track Thriller…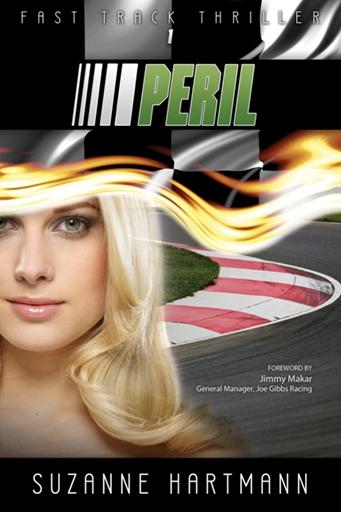 Hi, Suzanne, welcome.  We'd love to know a little about who you are beyond the writing.  Can you tell us about yourself?

I am a homeschool mom of three and live in the St. Louis area. When not homeschooling or writing, I enjoy scrapbooking, reading, and Bible study. I love to spend time with my family—watching TV or playing a game together, discussing (and sometimes debating) just about anything, and especially snuggling on the couch next to my husband.
Sounds like family is really important to you.  So how did you come to be a Christian writer? Was that something you saw coming say back in high school?

The Fast Track Thrillers began as stories I created to entertain myself during my children's music lessons and sports practices. I had no intention of writing a novel. That didn't enter my mind until one day when I was thinking about the latest story while taking a walk in my neighborhood. A thought popped into my head: "Why don't you write them into a book?" For a while I considered whether I was having a premature mid-life crisis, but finally decided that it was truly a nudge from God. Although I had little experience writing fiction, I chose to obey His calling, and He has been faithful to equip me throughout my writing journey.
A premature mid-life crisis, huh?  That's funny.  So what are you working on now in your writing life?

My debut novel, PERIL: Fast Track Thriller #1 just released on Nov. 18. It is a suspense novel with a twist of NASCAR:
A top-secret agent.
A high-profile assignment.
Danger at a NASCAR track.
A top-secret agent struggles with trusting God to protect her many secrets when she must use her enhanced abilities while escorting a Muslim king-turned Christian to the White House and the Talladega Superspeedway, which not only draws the attention of the media, but also a NASCAR champion… and makes her a terrorist target.
You can see the BOOK TRAILER here 
and see the book
If you could give one piece of advice (not writing related), what would it be and why?
Follow God's nudges, even when they don't seem to make sense by human standards.
I'm curious what you like to read or do you mostly watch NASCAR and thriller movies?
I read a wide variety of novels, both Christian and secular. Growing up, my favorites were mysteries and sci-fi. In high school and college, I read fantasy novels almost exclusively. For the last twenty years or so, I have preferred suspense novels and thrillers of all types, as well as YA historical fiction. Once I started writing, I broadened my scope and now read all genres except erotica and horror.
What projects are you working on now?
I am writing the sequel to PERIL, titled CONSPIRACY, due out in the summer or fall of 2012. The head of the country's most clandestine intelligence organization is framed for selling secrets to a foreign government. Along with the help of her friend, NASCAR champion Stuart Jackson, Joanne vows to help George set things straight  in spite of the personal tragedies engulfing her life.
The third book in the Fast Track Thriller series is REVENGE, is due out in 2013. In it, the man who framed George is behind bars, but he wants revenge. He promises to expose Joanne's deepest secrets to the entire world and isn't afraid to threaten her loved ones to accomplish it. When he threatens Stuart's during a race, will she trade her secrets in order to save him?
Sounds like it's a thrill a minute with your books!  Wow!  Where can our readers find you on the 'net?
My Website – FastTrackThrillers
My Blog – Write This Way
Facebook – Suzanne Hartmann – Author
Twitter – @SuzInIL
Thank you so much for hosting me today. Before I close, I would like to invite your readers to participate in a KINDLE give-away:
To celebrate the release of my debut novel, I am giving away a Kindle to one lucky winner! Entries will be accepted through 12/16.
To enter, click here: WIN A KINDLE
Thanks so much, Suzanne!  Best of luck in all your thrill rides!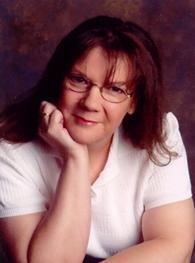 Suzanne Hartmann holds a Bachelor of Arts degree in Composition & Linguistics from Western Illinois University. Four of her short stories were published in a Milliken Publishing reading workbook, but PERIL: Fast Track Thriller Bk. #1 is her debut novel.              On the editorial side, Suzanne is a contributing editor with Port Yonder Press and operates the Write This Way Critique Service. Through her blog, Write This Way, she has become known as an author who can explain writing rules and techniques in easy-to-understand terms. Her popular Top 10 series of articles formed the basis for her e-book on the craft of writing, Write This Way: Take Your Writing to a New Level