Send to Kindle
By Mary Findley
Religious liberalism probably finds its roots in Thomas Jefferson. He accepted moral teaching from the Bible but denied the supernatural. The very similar classic Unitarian Universalist position led to Higher Criticism, a denial of the Bible's historical accuracy and spiritual authority. This gave rise to Charles Augustus Briggs, who openly denied the inerrancy of the Bible while retaining his positions as a Theology teacher and a pastor.
This perspective is shared by teachers who hold positions in most major seminaries. They control the finances of most denominations. They control the National Council of Churches and the World Council of Churches. They call themselves Christians but are well-known for their opposition to traditional Christianity. They have the money, the property and the printing presses, but every year they have fewer people.
Another historic group is easy to identify as those who are completely antagonistic toward the Bible. Thomas Paine might be considered the father of this group in America. The French Revolution embodied many of its ideals. Today it includes atheists such as Stephen Hawking, Richard Dawkins, and most tenured university professors. We call this belief Secular Humanism.
Today, working alongside the hardline liberals and the hardline secularists, is a generation or so of people raised in Bible-believing churches. They now minister in what they still call Bible-believing churches. They are pastors, deacons, Sunday school teachers.
They claim to know God's Word, but in fact are unwilling to learn from God's Word or be held to its teachings. They hold leadership positions but display an ignorance of the Scriptures and traditional church practices and beliefs.
These people have created a designer religion, but they have not started kool-aid-drinking cults. Their so-called Bible-based religion is Secular Humanism. Remember that the original Humanist Manifesto was written by a Unitarian Minister.
For 2000 years the church has been filled with immature believers. The difference is that now the immature members are gaining leadership positions and forcing out those who object to their temper tantrums and self-indulgence. They must have a list of don'ts so they can do everything else that isn't on the list. This kind of church does not instill character, it just creates more laws, much like the liberal media and judicial activists who claim to be advancing freedom while legislating against everything that they disagree with. Such churches claim to practice Christian liberty and attack those they have forced out for legalism.
These people talk about unity and love but if they don't get their own way they are divisive. The passage below states clearly that there is no place for church practice based on opinion. That' s childish. It's time to grow up. To attain unity it is necessary to have knowledge, not opinion.
Ephesians 4: 11-16 And He gave some as apostles, and some as prophets, and some as evangelists, and some as pastors and teachers, for the equipping of the saints, for the work of service, to the building up of the body of Christ; until we all attain to the unity of the faith, and of the knowledge of the Son of God, to a mature man, to the measure of the stature which belongs to the fullness of Christ. As a result, we are no longer to be children, tossed here and there by waves and carried about by every wind of doctrine, by the trickery of men, by craftiness in deceitful scheming; but speaking the truth in love, we are to grow up in all aspects into Him who is the head, even Christ, 16 from whom the whole body, being fitted and held together by what every joint supplies, according to the [l]proper working of each individual part, causes the growth of the body for the building up of itself in love.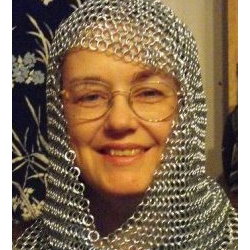 Mary grew up in rural NY and met my husband at college in South Carolina. She and her husband taught school in AZ, MO and PA, homeschooled, and created curriculum and videos for church and commercial productions. They have three 20-something children, and now travel the 48 states together in a tractor trailer.