Send to Kindle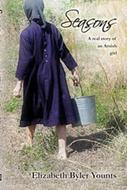 By:  E.B. Younts
This story started in my head over 20 years ago. Wow, that makes me sound old…I'm only 33. I loved my grandma's stories and I started memorizing them and learning everything I could about her young life.
When I was an ambitious single in my 20s, I didn't really give this story more than a "nod" at family events. While I really loved the idea of it and wanted to write it…I, quite honestly, had zero confidence that I could actually write it and write it well. It suddenly started to sound like a bunch of disjointed stories that didn't have any real "story" tying it together.
Move ahead now, I'm 29 and pregnant with my first baby. I live in Colorado with my JAG husband. I have finished 3 manuscripts total…only 1 of which are worth anything and that 1 still needs a MILLION edits. Then, this story started pricking my heart. So over the next few years I started & stopped writing this story several times.
Fast forward, I'm 31 (almost 32) and finally I feel like it is time. The book voice of Liddy suddenly spoke to me…authors understand this phenomenon, and I wrote the first chapter long-hand sitting up in bed in one sitting. It finally felt right. I had been involved in a critique group for almost a year at this point that was filled with SERIOUS writers…and writers with SERIOUS TALENT.
It was over a year later when it was fully written and edited and I started working on finding publishing options. I had always anticipated self-pubbing this book because I didn't think there was a market for an Amish memoir written by a granddaughter…so not a "true true" memoir. But my critique group encouraged me that while self-pubbing might have to happen because I did not have the time to wait (grandma was almost 85) that I should still market it well.
So…a big reason I self-pub'd this is because my grandma was 84 when the book was complete and sick with pneumonia. I was petrified something would happen to her before I could hand her a copy. I didn't have a literary agent (and still don't) and definitely didn't have a House that was knocking my door down for this quaint book. So…since I didn't have a budget for this, I used CreateSpace.
Grandma reading the
proof copy of Seasons for
 the first time. She was
like a kid in a candy store.
**Yes, I snuck this picture
with my phone. Worth it.**
I did NOT self-pub because I thought I would be an instant success, a best-seller, or because of impatience. I didn't have any more years to put into this project because my grandma NEEDED this book in her hands. It was so very important to her and since in the publishing world there is no guarantee about anything I knew I had to do this myself. I am so glad I did. Just the look on her face when she was able to read through the proof copy of Seasons…priceless.
If someone had told me everything I'd have to do in order to self-pub this very well, I think I would've been extremely intimidated. But I honestly went a step at a time and just worked on the step I was on. I always considered the next step but until I got there I didn't worry my head over it.
In the midst of this I also had another baby & I moved across the country. God was so faithful. Yes. Yes. Yes.
A friend of mine offered to do the book cover…didn't he do an AWESOME job! In paperback you can see what intricate work he did to wrap the scene around the back and then add a photo of my grandma, like she is now, in the back cover. It is gorgeous and so much of what I imagined. He didn't charge me a penny.
Then I studied book trailers and made one of my own. You can view it here. It is a touch longer than it should be, but I love it and I've gotten a great response on it. I released the trailer about 2 months before the book. Set up a better website and created a fan page on FaceBook.
The book released in early August and it's been a whirlwind ever since. We went up to my grandma's house for a release part over Labor Day weekend (also my youngest daughter's 1st birthday!) and I was BLOWN AWAY! There were well over 100 attendees (not including all the sweet little Amish kids) and we sold 250 books…I would've sold more if I'd brought more. I didn't think I needed more. Grandma and I signed and signed and signed…it was truly such a surreal moment to be signing my first books with my AMISH GRANDMA!!!!!!
I cannot explain the amazement I have with all of this and how proud I was to be the ONE who got to write this story. It went from an obligation that I thought would be just a book that would distract me from my "real" writing (fiction) into pushing me into real writing for the first time. What a love I have for the written word and for the Writer of All Words who drew me into this amazing responsibility. Thank you, Lord.
That is why I self-pub'd. Am I going to self-pub again? I am hoping my next book that is 7 chapters deep right now will get a contract. BUT…I am overjoyed that this is the journey that I took. I absolutely love this story. I believe in it just as much as the fiction manuscript I'm working on now. I believe Seasons needed to be written and the sales we are experiencing far exceed any of my expectations, truly. I it such a joy to see my sweet almost 85 year old grandma (her birthday is in a few weeks) reflect back on her life with such joy and peace…and then share it with all of us with such grace.
I cannot tell you how truly humbled I am that I got to be the mouthpiece, the writer, of this story.
YOUR TURN: Is there a story in your family that you think should be written? If so, tell me about it in the comments section. I'd love to hear from you.
Cheers,
Elizabeth
Elizabeth Byler Younts is the granddaughter of Lydia Lee Coblentz, the subject of her first book SEASONS: A REAL STORY OF AN AMISH GIRL. She is a member of the American Christian Fiction Writers. She is an Air Force Officer's wife with two young daughters and makes her home wherever her family is stationed. You may email her at elizabeth.by@gmail.com.