Send to Kindle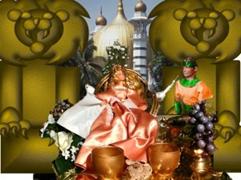 By: Mary Findley
Psalm 45 is a beautiful passage of Scripture. It describes a king which certainly seems to be the Messiah, Jesus Christ. In verse nine it begins to talk about women, and there are lessons for Christian women and their earthly relationships with men and others in the descriptions found here.
First, though, we witness the anointing of the king with "oil of gladness." The scents from his garments are of "myrrh, aloes and cassia."The mentions of these and the "ivory palaces" are stirring descriptions of beauty for multiple senses — touch, sight, smell, and a delight for the emotions as well. It's easy to see why "they have made thee glad." Woman, this man and his dwelling-place are being prepared for you, as if for you alone. Are you blessed, or what?
This Psalm is aiming toward a point, and I think that point is a "pre-echo," if you will, of the Marriage Supper of the Lamb. Sure enough, verse nine states that "Kings' daughters were among thy honorable women," (attendants at a wedding) and the queen is on his right hand, in gold of Ophir.
Mention of Ophir goes all the way back to Genesis and it is an ancient source of the highest-quality gold. I think that could mean that Christ loved His Bride from ancient times and set aside ornaments for her wedding day just as God planned salvation "before the foundation of the world."
Verse ten is another "pre-echo," this time of the statement of Christ that if one does not love father and mother more than Him, or even hate them, he is not worthy to be a disciple. So the daughter, or bride, is urged to "forget thine own people, and thy father's house."Just after the creation of Eve, before there were mothers or fathers, or perhaps even houses, Adam says that a man will leave these things and "cleave" to his wife.
The passage says that by doing this, the bride will cause her king to "greatly desire thy beauty." She will be irresistible to her man as she is wholly committed to Him alone. And verse twelve has a great by-product of being the king's bride. She gets presents! Tyre is certainly not known historically or biblically for being a good or godly kingdom, but its princess will have to show respect for this bride. All the richest and most powerful kingdoms on Earth want to get on her good side.
Now we get to the really good part! Verses thirteen and fourteen say "The king's daughter is all glorious within: her clothing is of wrought gold. She shall be brought unto the king in raiment of needlework." I'm told that "within" means within her chamber, that is, while she's getting ready for the wedding. She gets to put on wrought gold and that magnificent tapestry brocade you see in ancient portraits. No sweatpants, no bluejeans, no sir! The king's daughter, who is now also the wife of a king, shines like the sun in the most beautiful and best workmanship. She is glorious, mind you, not glitzy. No bling here. The virgins, young girls, follow her, and you can bet they follow her example of godly beauty, too because they are accompanying her to her Lord and theirs with "gladness and rejoicing."
Like many Scriptures this is a "here and now" as well as prophetic passage. The godly earthly queen will have children who can take the place of her forefathers as princes, leaders of kingdoms. In our sinful world we too often see children fall away from following their parents' example and teaching. Not so here. The influence of this godly queen is solid because she worships her Lord with her whole heart. The memory of a woman who can produce generations of godly children will always be praised.
*~*~*~*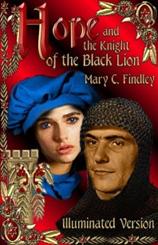 Mary Findley is the author of Hope and the Knight of the Black Lion
Get your copy here:
http://www.amazon.com/Hope-Knight-Black-Lion-ebook/dp/B0040X4Y8C