Send to Kindle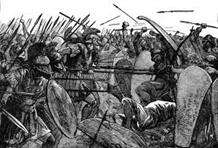 by:  Toy James
2 Chronicles 20:15, "…do not be afraid or discouraged because of the vast army. For the BATTLE IS NOT YOURS, BUT GOD'S."
Regardless of how tall the giants (financial difficulties, divorce, lack of support, the many no's, etc) are, God has your back. He's behind the scenes working things out because this fight is not meant for you to lose. It's meant to place you in a position to be BLESSED and equip you to be a blessing.
Keep holding on because the promises of God are Yes and Amen as stated in Corinthians 1:20, "For all the promises of God in him are yea, and in him Amen, unto the glory of God by us."
What has God promised you? Do you believe Him? If so, why are you now questioning that vision he gave you? Why are you questioning if the man/woman He promised you is yours? Why are you questioning if you should open the store, write the book or apply to the college of your dreams? Why are you settling for less because of your doubts?
Close off your ear gates to the negative people and things around you. Believe in the promises of God and allow Him to fight your battles.
Read 2 Chronicles 20 and take note on how Jehoshaphat led his people to victory to the point of claiming 3 days worth of his enemy's plunder (equipment, clothing, etc.). He was victorious over his enemies because he prayed and praised God and believed that God would fight his battles to the point of victory.
Live victorious because you serve a mighty God! Get up and go fill out that college application! Get up and pray for the man/woman you were promised! Get up and speak against the things and people that said you would lose your house to foreclosure! Get up and fight for what God promised you, but know that you cannot win the battle without Him!